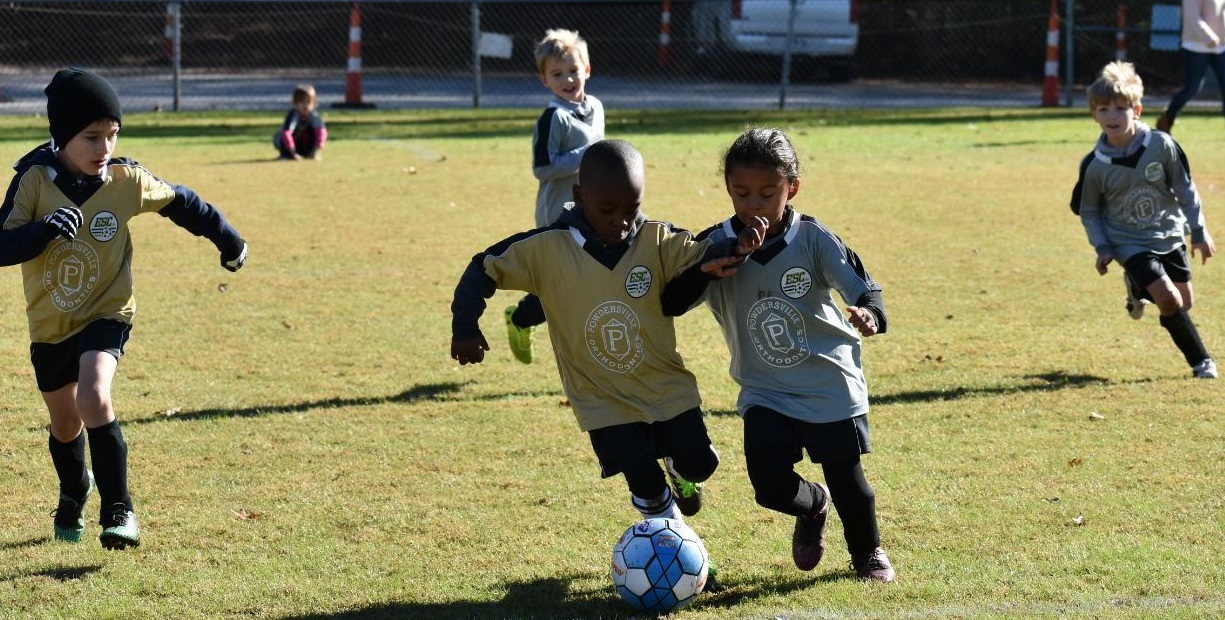 ESC Recreational soccer is a "for FUN" league and is for players of all skill levels. We provide a recreational program for children ages three to thirteen. There are two seasons a year. The first starts in the beginning of September and lasts eight to ten weeks. The second season starts in late February and lasts eight to ten weeks.
The recreational program plays our games at the beautiful J.B. Red Owens sports complex in Easley SC. JB Red Owen Complex Map
The rec program is co-ed giving both boys and girls a chance to grow and learn the game of soccer.
Questions? Email: This email address is being protected from spambots. You need JavaScript enabled to view it.
---
Important Dates:
Final day of registration is August 14th.
Walk up registration day will be on Saturday August 13th (9:00AM - 12:00PM) at Academy Sports in Easley.
ESC Shop Day at Academy Sports Easley (also online) - 8/12-8/14 Click Here for 20% Off Voucher

---
Rec Player Evaluations: Monday August 15th (for any player with a birth year 2010-2015).
Address: Pope Field, 310 Pope Field Rd, Easley, SC 29642, United States
Birth Year - 2013,2014,2015
Sign in 5:30 PM
Eval - 6:00 - 7:00
Birth Year - 2010,2011,2012
Sign in 6:30 PM
Eval - 7:00 - 8:00
---
First Team Practices: Week of September 6th
First Games: Saturday September 24th
The Powdersville Orthodontics ESC Recreational Soccer Tournament: Jamboree & Playoffs Saturday November 12th
Questions? Email: This email address is being protected from spambots. You need JavaScript enabled to view it.
---
Recreational Teams Schedules here: Rec Schedules
---
Fall 2022 REGISTRATION IS OPEN. CLICK on GREEN BUTTON FOR REC SOCCER INFO or to REGISTER.
FINAL DAY OF ESC RECREATIONAL SOCCER REGISTRATION IS AUGUST 14th

Registration for recreational Soccer for the Fall 2022 season has closed. You may add your child to the waitlist:
If a spot in your child's age group becomes available, ESC will contact you directly.
Registration for the Spring 2023 season will open on December 1st, 2022.
For questions about the assessments, practices, games, or coaching contact Travis Jordan (This email address is being protected from spambots. You need JavaScript enabled to view it.)
---
Recreational Soccer Registration Questions: This email address is being protected from spambots. You need JavaScript enabled to view it.
Practices: Teams in the U5/U7 divisions practice is one night a week. The U9/U11/U13 divisions practice is two nights a week.
Games: During the season teams will have eight or more games. Most games are played on Saturday mornings or mid day at JB Red Owens Complex.
Coaches: Our coaches are screened, trained and certified by SYCSA.
If you are interested in being a referee contact Travis Jordan This email address is being protected from spambots. You need JavaScript enabled to view it. or email: This email address is being protected from spambots. You need JavaScript enabled to view it.
Individual Training Sessions - Contact Director of Coaching - Ross Goodacre This email address is being protected from spambots. You need JavaScript enabled to view it.
SCYSA Concussion Procedure Protocol