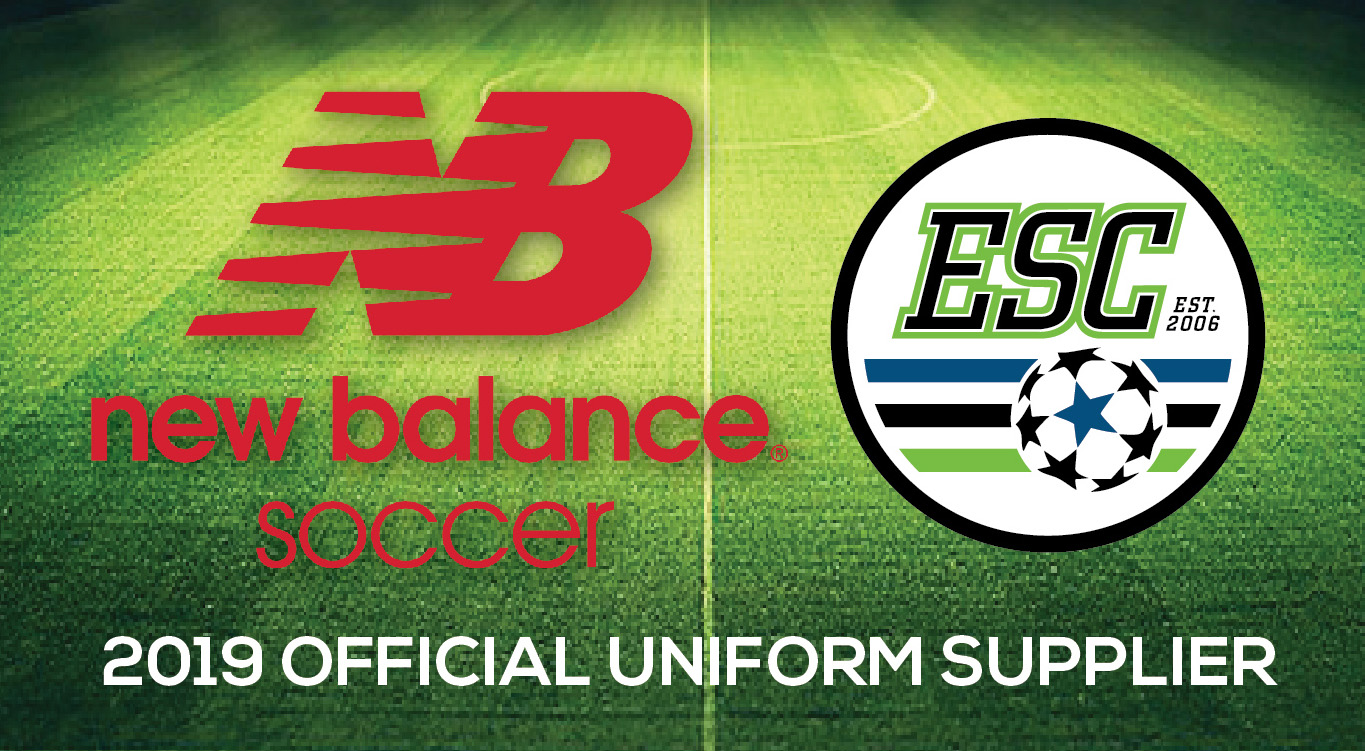 Date: 1/25/2019
Location: Easley, South Carolina
NEW BALANCE SOCCER BECOMES THE OFFICIAL UNIFORM PROVIDER OF EASLEY SOCCER CLUB
Easley Soccer Club ("ESC") has announced a new uniform agreement with New Balance Team Sports. The Boston based company of performance footwear, apparel and equipment becomes the official outfitter and kit provider of Easley Soccer Club beginning 2019.
As part of the multi-year agreement, New Balance will be the kit and team wear provider for all Easley Soccer Club academy and select teams.
"We're excited to join the New Balance family and to have them be our academy and select team gear provider," said ESC Director, Jeff Young. "With our recent partnership with Celtic FC it is a natural fit for us as New Balance is making its mark in the sport by providing top level apparel and footwear to youth players of all levels across the globe. We look to assist them with growing the New Balance Soccer brand here in South Carolina."
The new ESC kit designs are being finalized and will be available, along with new New Balance training gear, starting early summer 2019.
About New Balance Soccer
New Balance, headquartered in Boston, MA has the following mission: Demonstrating responsible leadership, we build global brands that athletes are proud to wear, associates are proud to create and communities are proud to host. Manufactured in the US for over 75 years and representing a limited portion of our US sales, New Balance Made is a premium collection that contains a domestic value of 70% or greater. New Balance owns five factories in New England and one in Flimby, U.K. New Balance employs more than 6,000 associates around the globe, and in 2017 reported worldwide sales of $4.0 billion. To learn more about New Balance, please visit www.newbalance.com.
About Easley Soccer Club
Established in 2006, by a group of soccer loving parents, Easley Soccer Club was based on the belief that sports provide an opportunity to teach important life principles of sportsmanship, teamwork and discipline. Easley Soccer Club is still committed to this belief and to providing programs in recreational, junior academy, and select levels of competition for players between the ages of 3 to 18. We are a United States Youth Soccer Association approved club and a South Carolina Youth Soccer Association affiliate as well as a 501(C)(3) non-profit corporation. Easley Soccer Club teams consistently compete in tournaments throughout the southeast region of the United States, where we have had teams win and/or place in their divisions.
Contact Information
Jeff Young, Easley Soccer Club Director of Soccer Operations, Email This email address is being protected from spambots. You need JavaScript enabled to view it.