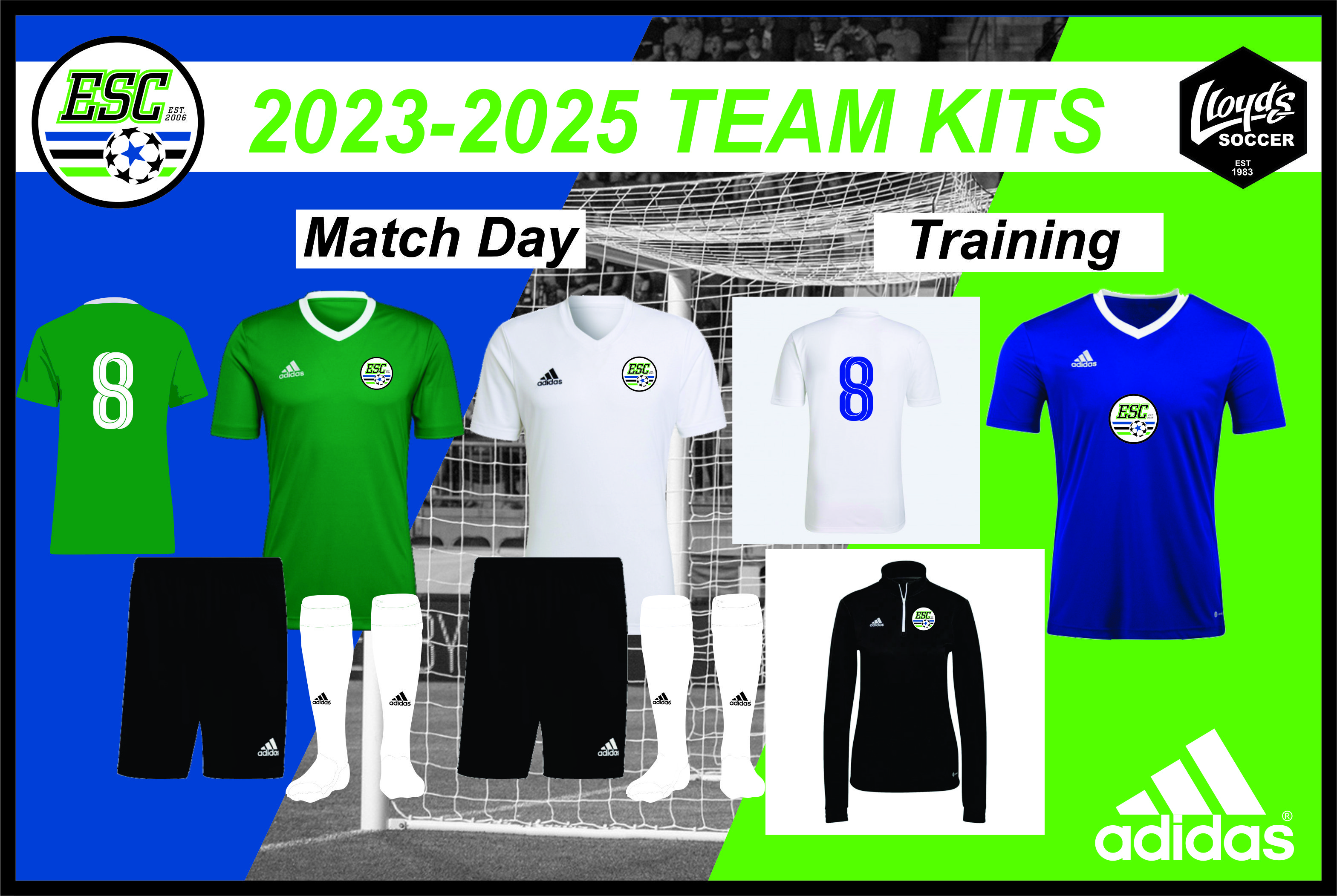 The Required ESC 2023-2025 Academy and Select Uniform Fee is $165*. Other optional ESC player items will be available.
The ESC uniform will be available for ordering through the Lloyd's Soccer online order system.
ESC Elite Uniforms

Required Uniforms

The minimum required Academy/Select kit is one Adidas Entrada 22 Green jersey and one White Jersey with one Adidas Entrada 22 Black shorts and one Adidas Copa Zone white socks. Also, the required trainig kit is TWO Adidas Entrada 22 Royal Blue training jersey and one Adidas Entrada 22 Black 1/4 zip training top.

Optional items: Adidas Stadium backback, Adidas hoody, Adidas Entrada 22 training pants, extra socks, extra shorts for training, and extra traiing jerseys.

Please Note

Due to manufacturer availability and production, uniform styles now cycle out every two years. Fall 2023 marks the start of a new two year term. All ESC Academy and Select players are required to purchase a new Adidas uniform.

Academy and Select Team Kit

Adidas green jersey with ESC Badge and number, Adidas white jersey with ESC Badge and number, Addias black shorts, Adidas white game Socks, two Adidas royal blue training jersey with ESC Badge and one Adidas black 1/4 zip training top with ESC badge.The Club and HS Prep team kit will be

the same as the Academy/Select kit. .

Cost

Pricing for the Team Kit is about $165* (youth sizes) and (adult sizes), not including shipping or taxes.

Ordering

Ordering will be through Lloyd's Soccer.

Players will need to wait for numbers to be assigned before ordering.

A link for ordering will be sent to each player.

Jersey Number

Jersey numbers must be coordinated with team managers or ESC admin.

Sizes

When requesting a uniform size, please allow for growth and consult the team ordering website for sizing information.
*Excludes shipping and taxes.
All ESC players are required to purchase the full kit. Keepers can just purchase the Adidas keeper kit but they are required to purchse the two training jerseys and one 1/4 zip training top.